Scarwork: Integrating Scar Tissue into the Fascial Web – 5 days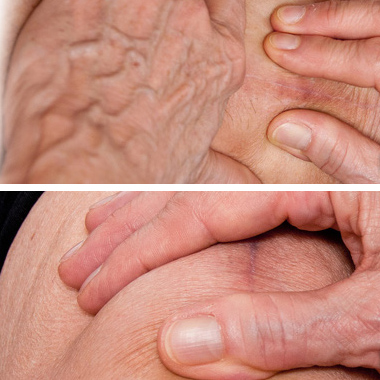 Course details:
Date: 29-30.06.2022, 01-03.07.2022
Hours:
Place: Hotel Mercure Toruń Centrum, ul. Józefa Ignacego Kraszewskiego 1/3, 87-100 Toruń, Poland
Teachers:
Wheeler Sharon Jäger Heike
Price: 4300 pln / 1000 pln advance payment
Detailed information:
e-mail: magda@zoga-movement.com, dominika@zoga-movement.com
---
Course information
Scarwork: Integrating Scar Tissue into the Fascial Web – 5 days
Scar tissue work uses a casual light touch and the work is rarely painful even for very new scars and the amount of change in one intervention is extensive.
Natural and surgical scars of any age respond immediately followed by a short period of rapid healing and continued improvement. Scar tissue quality changes quickly and easily. The work starts with the surface layers and goes into the far reaches of the scars. Scar work often results in large whole body integration shifts along with trauma resolution and nerve impaired numbness usually resolves within a session.
Working with scars is like speaking a different language in the world of connective tissue. Attention to detail, the perception of small increments of change, and a sense of humour are helpful in the study of scars.
Practitioners will learn the techniques well enough to take them home and use them the next day in their private practice. Scar work can fit seamlessly into an SI series or be used as a stand alone intervention session.
Sharon Wheeler:
In 1970, at the age of 23, Sharon Wheeler trained with Dr. Ida P. Rolf, the founder of Structural Integration. Her contributions to the field are a reflection of her lineage. She trained in the first Rolf Movement Integration class with Judith Aston in 1971.
Sharon was one of the youngest students as well as one of the few women to be trained. Among the students in her class were two MD's, an aero-space engineer, and a PhD psychologist. Sharon was one of Dr. Rolf's admitted "artistic experiments".
Heike Jäger – studied biology and mathematics in Hannover and Osnabrück. She also did a PhD in microbiology on the analysis of the structure of membrane proteins in the ATP synthesis of E-coli bacteria. In 1996 she changed her interest in ion channel research at the Institute of Applied Physiology at the University of Ulm. Her post-doctoral work at the University of California focused on the search for molecular patterns of ion channel interactions that modulated initiation of cell migration. Since 2010, she has been associated with the Robert Schleip Fasica Reaserch Group in Ulm. In addition to electrophysiology and molecular biology research projects, he is also working on the characteristics of tissue elasticity at the Institute of Laser Technology in Medicine and Measurement Technologies at the University of Ulm in collaboration with the Faculty of Internal Medicine at Ulm Hospital and other Departments of the University of Ulm. In addition to his research, Heike organizes conferences and workshops on fascia research, tissue adhesions and fascial pain, as well as seminars for the medical profession. He is a frequent lecturer at German and world conferences. Its aim is to make new discoveries in the field of physiology research for the field of therapeutic work.